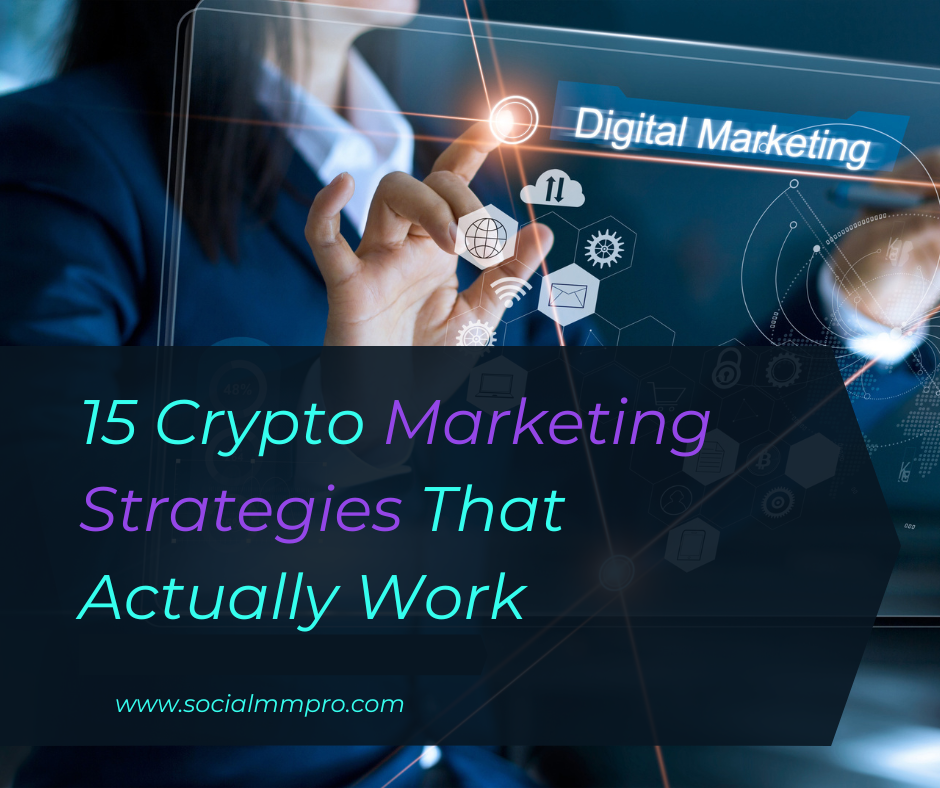 15 Crypto Marketing Strategies That Actually Work
The cryptocurrency market is filled with noise. If you're looking to launch your own crypto marketing campaign, it can seem like there are a million different things you could do in order to make sure your project gets noticed
15 Crypto Marketing Strategies That Actually Work
The cryptocurrency market is filled with noise. If you're looking to launch your own crypto marketing campaign, it can seem like there are a million different things you could do in order to make sure your project gets noticed. And while that may be true, that doesn't mean all of these ideas are effective. In fact, some of them don't really work. So, what does? Well, the answer isn't quite so straightforward. There isn't just one universal strategy that will work across the board for any brand or project. However, it is possible to identify strategies that have proven to be more effective than others when it comes to launching new projects and products related to blockchain or digital currencies.
What works and what doesn't in crypto marketing
The key to a successful marketing campaign is knowing what works and what doesn't. What audiences respond to, and what doesn't resonate with them at all. The same goes for marketing channels. If something isn't delivering any real value, it's a waste of time and resources. You have to be able to recognize what's not working and make the necessary adjustments if you want to be successful. You should also consider your project's unique characteristics. Every marketing campaign should be customized to fit each specific project. You can't expect every single marketing strategy to work for every single project. There are, however, a few strategies that have been proven to work more effectively than others when it comes to crypto marketing.
Facebook Ads
Facebook ads are one of the most effective ways to reach new audiences. They can be used to promote your project, ICO, or exchange, or they can be used to generate leads. There are a couple of important things to keep in mind when you're considering Facebook ads for your crypto marketing campaign. Facebook ads are best suited for B2C marketing campaigns. They aren't well suited for B2B campaigns. If your project is targeting a B2B audience, you'll probably want something a bit more direct. Facebook ads can also be expensive. If you're not careful, you could end up spending a lot of money on your campaign with little to show for it. You have to be strategic and use the right targeting options if you want to get the most out of your Facebook advertising. That said, if done right, Facebook ads can drive a lot of traffic to your website or landing page. They can help you reach new audiences and generate leads.
PR/Press Releases
Do you find yourself wondering if PR and press releases are still relevant in the modern era? Or if they're an outdated, useless form of marketing that no one pays attention to anymore? Well, you're not alone. A lot of people think that PR is a waste of time. That it's a relic of the past and that no one pays attention to it anymore. But, in reality, PR is still a very effective form of marketing You need to make sure that your press release or pitch actually gets noticed by the right people. Does it appear in the right publications? Do you pitch it to the right journalists? If you don't, your PR could end up being a complete waste of time. PR is an excellent way to generate leads and promote your project or ICO. It's also relatively inexpensive when compared to things like paid advertising. However, you do need to make sure that you're pitching your stories to the right publications. You need to make sure that journalists who cover stories related to your industry actually see your PR and press release.
Live-streaming Events
If you're looking for an event-driven marketing strategy, live-streaming your event can be a great option. There are various types of events you could host, but probably the most effective ones are ICO launch events and conferences. ICO launch events are a great way to generate leads and promote your project. They're also a good way to get your name out there and build your brand. ICO launch events are usually invite-only. If you're hosting one, you can invite influencers and journalists from the space to attend. You can also hold an online event where people can tune in and ask questions. That way, you can also bring a lot of attention and traffic to your project and website. Conference marketing is also a great way to get your company name out there. You can host a conference with other blockchain or crypto companies or you can approach an established conference and see if they'll let you sponsor it.
Bounty Programs
Bounty programs are a common practice among ICOs. You basically provide incentives for people to perform certain actions that will help promote your project and bring more attention to it. For example, if you are running an ICO, you might offer a bounty for social shares, for people to create YouTube videos, repost blog posts, etc. There are certain limitations on what you can do with bounty programs. But, generally, you can offer just about anything for the promotion of your project. Bounty programs are a great way to drum up attention for your project and ICO. They're usually free to set up, and they don't require a ton of effort on your part. However, you do need to make sure you structure them correctly and follow all applicable laws. There are some issues with bounty programs, such as the fact that they're mostly done with tokens. If they are successful, bounty hunters will want to cash out their tokens immediately. This can cause a lot of downward pressure on your token price.
Airdrop Marketing
Airdrops are basically just free marketing. They're a way to attract new users and build a community around your project or ICO. You basically give away free tokens to everyone who signs up on your platform or submits certain information. You can also airdrop tokens to people who hold a certain token. Airdrops are a great way to get your brand and name out there. It's something that people talk about and share with their friends. They're also relatively inexpensive because you don't have to spend much on them. Airdrops are usually just something that you set up and forget about. There are ways to set them up so that they go out automatically. You can also manually choose who receives them. You do have to be careful with airdrops. You need to make sure you follow all applicable laws and regulations. You also need to make sure they're done the right way so that people don't abuse them and take advantage of them.
ICO Marketing Strategies
If you're planning to launch an ICO, you're going to want to start marketing your ICO at least a few months before it actually goes live. ICO marketing is a little bit different from regular marketing campaigns. You have to look at it as a combination of marketing and sales. You have to get people excited enough about your project that they're willing to buy your tokens. But you also need to make sure that they understand the project, that they're confident in your ability to follow through on your promises, and that they trust your team. No matter how good your marketing campaign is, if you don't follow through on what you're promising, you'll end up losing a lot of your initial investors. There are a few different things you can do to market your ICO. You can create an email list and start building a community around your project well before the ICO date. You can also start blogging about the project and the challenges that it's trying to solve. You can also consider purchasing ads on various platforms and websites, or even hiring someone to create content for you.
Cryptocurrency influencer marketing
Marketing your crypto business is not easy if you are new to the world of cryptocurrency and blockchain. Marketing a new product or service in an existing industry is challenging, especially when the market is saturated with different products targeting the same audience. To help you stand out from the crowd and successfully market your crypto business, we've rounded up 42 leading crypto influencers on 3 continents.
For more information
Bottom line
If you're looking to launch a crypto project, you need to start marketing your ICO as soon as possible. Ideally, you should start building your marketing campaign a few months before your ICO launch date. This way, you have enough time to generate some buzz around your project and get people excited about your project. You also have enough time to address any concerns that people may have about your project and ICO. Marketing your ICO is an essential part of the process. It's the only way that you're going to be able to get enough funding to launch your project.